Pent-up consumer demand promises a strong economic return, which bodes well for small businesses hoping for a return to normalcy in 2022. But that doesn't mean business as usual will see you succeed – use these tactics to give your business a lead over the competition.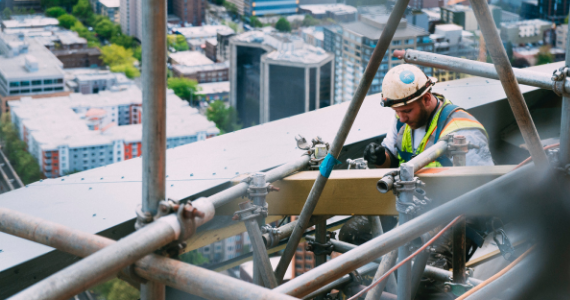 Tactic 1: Take. A. Break.
The pandemic has made for a bumpy business ride, so make sure your head is in the game.
COVID fatigue and mental exhaustion has been very real as business owners navigate gruelling lockdowns and often-changing trading rules. It's important to allow yourself to mentally catch up, says Eric Tjoeng, CEO and founder of business growth strategy firm BGES.
"Rest over the break and come into the new year with the right mindset so that you can be more strategic and holistic about approaching business," Tjoeng says. This healthy mindset will enable you to make the most of the opportunities that present themselves, and help you deal with ongoing uncertainty.
And while the new year may bring busy times, business owners should spend more time setting the strategy than running the business, given the vast number of changes in consumer behaviour, Tjoeng adds.
Tactic 2: Get out of the weeds
Accept that business won't just snap back to pre-COVID times. Be holistic by thinking big picture and long term about issues such as supply chains and staffing requirements, Tjoeng says.
"COVID has changed certain consumer behaviours, so business owners need to accept that their own expectations and behaviours must catch up, because there's no going back to the way it was," he says.
This means understanding new buying behaviours and how they relate to your business, and accommodating what people want rather than how you want to operate. On top of this, ensure that suppliers, contractors and employees understand your business strategy and how they contribute to its successful implementation.
"There are opportunities out there for the right product or service, which will find enough volume and margin to sustain itself and grow the business," Tjoeng says.
Tactic 3: Work out your greatest value
Time has often felt elastic during the pandemic. More time at home and less time doing the things we love may have left some with an altered perspective.
From an administrative point of view, it's important that business owners understand what their time is worth and how they're spending it. And importantly, whether it's ultimately resulting in sales, says Bill Lang, executive director of Small Business Australia.
Where you should spend your time will vary. But start by making sure you have a deep understanding of your customers, what they value, and how they research and buy your category of products and services, Lang says.
"Increasingly, the use of simple and integrated digital tools that are rented by the month can save owners and employees hours of time each week," he says. "Investing in these tools and processes can increase value to the customer, employees and business owner."
Tactic 4: Secure your own financial future
If you dipped into your superannuation during the pandemic or haven't been topping it up due to economic uncertainty, now is the time to get back on track.
The Super Guarantee is 10 per cent, meaning that 10 per cent of what you earn every single week should be hitting your super account. That way, the wonders of compound interest will help get your retirement plans back on track.
The best way to achieve this is to set up a direct debit, so that the cash hits your super account without you having to think about it. Depending on your age and stage of life, you might want to consider increasing your super deposits above 10 per cent, particularly if you're closer to retirement age.
Tactic 5: Stay nimble
In this 'new normal' world, there will need to be new normal ways of operating a business, so it's time to recalibrate your plans.
Major changes to consumer behaviour, such as less foot traffic in CBDs and huge growth in ecommerce, have changed the ballgame, explains Bruce Billson, Australian Small Business and Family Enterprise Ombudsman.
These are seismic shifts across the economy that are impacting how businesses need to operate. "Some have been well equipped to navigate the economic challenges that have stood in the way of small businesses and have weathered the COVID storm, while others have not," Billson says.
Businesses that have been in a holding pattern need to accept change will be required, anticipate what that might mean for business, and recalibrate their plans, he adds.
"There's still a possibility that there will be further COVID-related impacts on the economy, even in terms of changing expectations from consumers. Things won't just bounce back to where they were."
Tactic 6: Become a digital ninja
Digital marketing became even more crucial during the pandemic, so setting up the systems to ensure you're nurturing those connected relationships with customers even as they return to your store is important, Billson says.
"Businesses have nurtured a more connected relationship with customers during COVID, with stronger connections through social media," he says. "These conversations have been really helpful guide to stay close to changing customer preferences."
Being able to fine tune your offering and identify new opportunities can grow sales as well as build strong relationships with customers, Billson says. For example, he's seen examples of florists using digital marketing to reimagine themselves as the antidote to social isolation.
"Sending flowers as a source for addressing social isolation and conveying affection in a much deeper way, given people haven't been able to have that contact, was really clever," he says.
Important information and disclaimer
This article has been prepared by NULIS Nominees (Australia) Limited ABN 80 008 515 633 AFSL 236465 (NULIS) as trustee of the MLC Super Fund ABN 70 732 426 024. The information in this article is current as at June 2021 but may cease to be accurate in the future.
NULIS is part of the group of companies comprising IOOF Holdings Ltd ABN 49 100 103 722 and its related bodies corporate (IOOF Group).
Opinions constitute our judgement at the time of preparation. In some cases information has been provided to us by third parties and while that information is believed to be accurate and reliable, its accuracy is not guaranteed in any way.
To the extent that the information in this article is or contains advice, it does not take into account any particular person's objectives, financial situation or needs. Before acting on the information, you should consider the relevant Product Disclosure Statement, consider the product's appropriateness to you having regard to your personal objectives, financial situation and needs, and consider obtaining independent advice. The Product Disclosure Statement for the MLC Super Fund is available at https://www.mlc.com.au/personal/superannuation/products or can be obtained by calling 132 652 (Monday to Friday between 8am and 6pm AEST/AEDT). Returns are not guaranteed and past performance is not a reliable indicator of future performance. The value of an investment may rise or fall with the changes in the market. You should not rely on this article to determine your personal tax obligations. Please consult a registered tax agent for this purpose. Subject to terms implied by law and which cannot be excluded, neither NULIS nor any member of the IOOF Group accepts responsibility for any loss or liability incurred by you in respect of any error, omission or misrepresentation in the information in this communication.