Recent research shows female investors are on the rise–moving ahead of men along the way.
There's been a dramatic increase in the numbers of Australian women investing over the past 12 months. Women made up 45% of all new investors in Australia last year, up from 31% among those who started five to 10 years ago1. And this trend appears set to continue with women accounting for 51% of those planning to invest. What's more, they're getting ahead while they're at it, with female investors outperforming their male counterparts by 1.8%. This might not sound like much, but it can make a big difference in the long run. An extra investment return of 1.8% on a lifetime of savings looks like: $550,575 vs $390,8771*.
 
There are certain behaviours and patterns that point to women's success
For example, research indicates that men are more likely to favour speculative stocks, whereas women prefer shares with a good track record2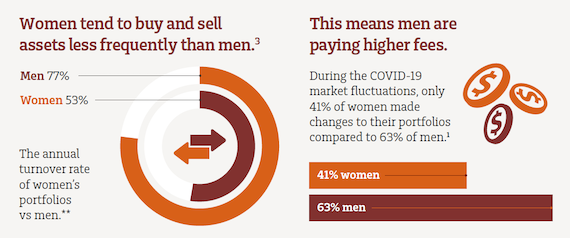 Investing doesn't have to be hard
It may be that you want to buy a property or boost your superannuation by contributing additional funds. Or you may want to finance your children's education. Further down the track, you may want to move into part-time employment or set yourself up for a comfortable retirement. No matter what your short or long term goals are, it's critical for women to make the most of their income while it's being generated, to ensure financial security.
See below for a more detailed breakdown of where Australian women are investing.


The opportunity for women is to look to the future. What strategies will deliver financial security in the long run? And why is it particularly important for women to focus on building long-term wealth?
* Based on someone who invests $7,000 each year between the ages of 30 and 67 and includes tax and investment fees.
** Based on the monthly turnover x12.
*** Either personally, in a company structure or via a family trust.
1 ASX Australian Investor Study 2020 https://www2.asx.com.au/blog/australian-investor-study
2 https://www.wbs.ac.uk/news/are-women-better-investors-than-men/
3 https://www.accaglobal.com/my/en/member/member/accounting-business/2017/03/insights/women-investing.html
Important information and disclaimer
This communication has been prepared by Bridges Financial Services Pty Ltd ABN 60 003 474 977 AFSL 240837 ('Bridges') trading as MLC Advice, a member of the IOOF Holdings Limited ABN 49 100 103 722 ('IOOF') group of companies ('IOOF Group'), registered oce Level 3, 30 Hickson Road, Millers Point NSW 2000, for use and distribution by representatives of MLC Advice. MLC Advice financial advisers are representatives of Bridges.
Any advice in this communication is of a general nature only and has not been tailored to your personal circumstances. Accordingly, reliance should not be placed on the information contained in this communication as the basis for making any financial investment, insurance or other decision. Please seek personal advice prior to acting on this information.
If any financial products are referred to in this communication, you should consider the relevant Product Disclosure Statement or other disclosure material before making an investment decision in relation to that financial product. Past performance is not a reliable indicator of future performance. The value of an investment may rise or fall with the changes in the market.
Information in this communication is accurate as at the date of issue. In some cases, information has been provided to us by third parties. While it is believed the information is accurate and reliable, the accuracy of that information is not guaranteed in any way. Any opinions expressed constitute our views at the time of issue and are subject to change. While care has been taken in the preparation of this communication, subject to any terms implied by law and which cannot be excluded, no liability is accepted by Bridges, IOOF or any member of the IOOF Group, their agents or employees for any loss arising from reliance on this communication.
Any tax information provided in this communication is intended as a guide only and is based on our general understanding of taxation laws. It is not intended to be a substitute for specialised taxation advice or an assessment of your liabilities, obligations or claim entitlements that arise, or could arise, under taxation law, and we recommend you consult with a registered tax agent.
>Please note that any advice you receive is provided by Bridges, not IOOF or any other member of the IOOF Group. An investment with Bridges, or any other member of the IOOF Group is subject to investment risk including possible delays in repayment and loss of income and capital invested. The repayment of capital, the payment of income and any particular rate of return are not guaranteed by Bridges or any member of the IOOF Group, or any other company, unless specifically stated in a current PDS. Neither Bridges, IOOF nor any member of the IOOF Group in any way stand behind the capital value and/or performance of any investment you may make as a result of the advice you receive.