Key takeaways
Investing in growth assets like shares and property can generate a passive income while building your wealth over time

Keeping track of your expenses versus income can help identify possible savings to pay off debt

Adding more to your super on a regular basis offers tax benefits in addition to improving your retirement.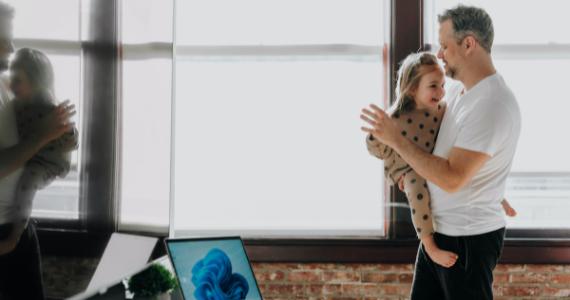 While you may not be as invincible in your 40s as you were in your 20s—and possibly have a few extra responsibilities like kids and a mortgage—you're probably in a more stable financial position than you've ever been.
So how can you continue to build this momentum to set yourself up for a successful future?
 
1. Generate passive income and build long-term wealth
Wouldn't you love to wake up knowing that a flood of cash seeped into your bank account?
If you can afford to put some money away for a lengthy period, and are able to take on more risk to seek better long-term returns, investing in growth assets like shares and property can generate a passive income while building your wealth over time. A passive income is money earned without you having to work. It's the best kind!
Shares
According to analysis by Credit Suisse, Australian shares have given their investors an average annual return of 6.7% per year since 1900.1 That makes Australia the second best performing share market in the world over 120 years.2
Generally speaking, shares outperform many other investments over the long term, meaning your chance of a negative return gets lower the longer you invest.
There's also the benefit of dividends. If you invest in companies that pay dividends, you'll benefit from the part of the company's profits paid to shareholders (generally twice a year).
Note: as we've seen during COVID, companies can cut dividends when times are tough. But they tend to increase them when profits recover.
Property
Owning an investment property is another way to generate a passive income stream -by tenants paying you rent.
Like shares, Australian residential property has delivered strong long-term returns. In fact, in the past 20 years to December 2017, it returned 10.2% pa.3
While less volatile than shares, residential property values change depending on supply and demand in the market. There are also high costs involved to buy and maintain one and it's difficult to get your money out quickly—if you need to pay for an expense, you can't sell off one bedroom.
2. Gain control of your debt
While many people understand the benefits of supplementing work-earned income with passive income, one thing holds them back.
For many people in their 40s, debt is an overbearing burden that never seems to lighten. Whether it's the mortgage repayments or mounting credit card bills, debt is one of the big obstacles to investing for your future.
So if this is the case, you may need a debt management plan—one that's realistic to follow.
Set priorities
If you have more than one outstanding debt, consider working out how much you can repay on each, based on the minimum repayment owing.
Alternatively, if you're able to repay more than the minimum, look at prioritising your debts. You'll need to think about the type of debt you have—an investment loan or personal debt—and how much is owing.
If you only have personal debt, you could prioritise repaying debts with the highest interest rate first, given these will be costing you the most.
At the end of the day, the approach you take is personal but it's important to have a plan and stick to it. And that could mean making other changes.
Keep track of expenses and income
Having a clear picture about what you earn versus what you spend can highlight areas where you may be able to save.
Whatever income you're able to save can then be allocated towards your debt. There are budget planners and phone apps you can use to track your spending. Alternatively, you can simply download your bank statements and keep a record of your receipts.
Make sure to include everything from your household necessities like rent or mortgage, utilities, kids' education, what you spend on entertainment, etc.
3. Seek help from a professional
If you value the experience of experts in other aspects of your life, don't discount it when it comes to managing your life savings.
A financial adviser is not just someone who helps with investments. Their job is to help you with every aspect of your financial life—savings, insurance, tax, debt—while keeping you on track to achieve your goals.
More importantly, they can answer questions like:   
How can I pay off my mortgage faster and reduce my debt?

What strategies can I use to build my wealth?

What age can I stop working and retire?
If your to-do list is endless and you never quite have time to tackle your personal finances, a financial adviser may help to set you on the right track.
4. Invest in your retirement
If you've still got a long way to go before retirement, it's worth keeping track of your super's performance. This may lead you to reconsider your investment approach.
There are also retirement calculators you can use to see if you'll have enough saved to maintain your standard of living in retirement.
If you find youneed to make financial adjustments to increase your retirement savings, one option could be to contribute more to your super on a regular basis using your before-tax or after-tax income – there are tax benefits that come with this too.
For example, if you contribute some of your after-tax income or savings into super, you may be eligible to claim a tax deduction. This means you'll reduce your taxable income for the financial year and potentially pay less tax, while adding to your super balance. It's a win-win!
And you don't have to wait until your mortgage is paid off to add more to your super either. Even small, regular contributions could make a big difference to your retirement savings.
1 Livewire: Australian sharemarket wins gold – 5 March 2019 
https://www.livewiremarkets.com/wires/australian-sharemarket-wins-gold
2 Livewire: Australian sharemarket wins gold – 5 March 2019 
https://www.livewiremarkets.com/wires/australian-sharemarket-wins-gold
3 ASX: 2018 Russell Investments/ASX Long Term Investing Report– June 2018
https://www.asx.com.au/documents/research/russell-asx-long-term-investing-report-2018.pdf
Important information and disclaimer
This article has been prepared by NULIS Nominees (Australia) Limited ABN 80 008 515 633 AFSL 236465 (NULIS) as trustee of the MLC Super Fund ABN 70 732 426 024. NULIS is part of the group of companies comprising Insignia Financial Ltd ABN 49 100 103 722 and its related bodies corporate ('Insignia Financial Group'). The information in this article is current as at May 2022 and may be subject to change. This information may constitute general advice. The information in this article is general in nature and does not take into account your personal objectives, financial situation or needs. You should consider obtaining independent advice before making any financial decisions based on this information. You should not rely on this article to determine your personal tax obligations. Please consult a registered tax agent for this purpose. Opinions constitute our judgement at the time of issue. The case study examples (if any) provided in this article have been included for illustrative purposes only and should not be relied upon for decision making. Subject to terms implied by law and which cannot be excluded, neither NULIS nor any member of the Insignia Financial Group accept responsibility for any loss or liability incurred by you in respect of any error, omission or misrepresentation in the information in this communication.