Want to boost your financial literacy? These female-focused podcasts, books and courses have advice, tactics and tips to build wealth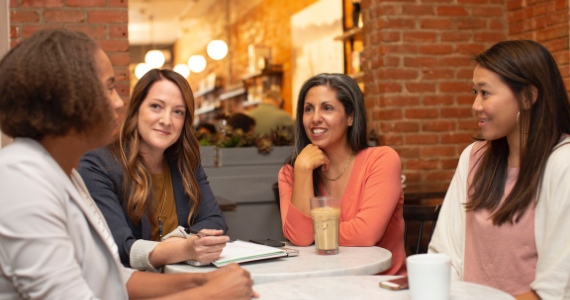 Rise of the financially empowered female
The average net wealth of Australian women is now 89 per cent of that of men1, with the rise of women as an economic force largely due to more women working, along with the booming housing market.
In turn, this has fuelled the growth in female-focused personal finance resources – whatever your interest, there's a good chance there's a book, podcast or course that has you covered.
Whether you want to improve your financial skills, grow your wealth, get better at money management or become a savvy investor, it can be difficult to know where to start.
But every day, more and more money resources are available to help women kit up. We've taken the hard work out of tracking them down, with this curated a list of five courses, books and podcasts to help you up your money game.
5 courses to improve your financial fitness
5 books to boost your money power
5 podcasts to supercharge your cash
If the do-it-yourself approach isn't really your thing, you can always seek professional help from us. Call today on 02 9554 3566.
For a full guide on how to build wealth, download the free workbook
How to plan your finances in a changing world: The essential workbook for Australian women
Source: MLC
1 http://roymorgan.com.au/findings/8072-females-closing-the-gender-wealth-gap-201908050003
Important information and disclaimer
This communication has been prepared by Bridges Financial Services Pty Ltd ABN 60 003 474 977 AFSL 240837 ('Bridges') trading as MLC Advice, a member of the IOOF Holdings Limited ABN 49 100 103 722 ('IOOF') group of companies ('IOOF Group'), registered office Level 3, 30 Hickson Road, Millers Point NSW 2000, for use and distribution by representatives of MLC Advice. MLC Advice financial advisers are representatives of Bridges.
Any advice in this communication is of a general nature only and has not been tailored to your personal circumstances. Accordingly, reliance should not be placed on the information contained in this communication as the basis for making any financial investment, insurance or other decision. Please seek personal advice prior to acting on this information.
If any financial products are referred to in this communication, you should consider the relevant Product Disclosure Statement or other disclosure material before making an investment decision in relation to that financial product. Past performance is not a reliable indicator of future performance. The value of an investment may rise or fall with the changes in the market.
Information in this communication is accurate as at the date of issue. In some cases, information has been provided to us by third parties. While it is believed the information is accurate and reliable, the accuracy of that information is not guaranteed in any way. Any opinions expressed constitute our views at the time of issue and are subject to change. While care has been taken in the preparation of this communication, subject to any terms implied by law and which cannot be excluded, no liability is accepted by Bridges, IOOF or any member of the IOOF Group, their agents or employees for any loss arising from reliance on this communication.
Any tax information provided in this communication is intended as a guide only and is based on our general understanding of taxation laws. It is not intended to be a substitute for specialised taxation advice or an assessment of your liabilities, obligations or claim entitlements that arise, or could arise, under taxation law, and we recommend you consult with a registered tax agent.
Please note that any advice you receive is provided by Bridges, not IOOF or any other member of the IOOF Group. An investment with Bridges, or any other member of the IOOF Group is subject to investment risk including possible delays in repayment and loss of income and capital invested. The repayment of capital, the payment of income and any particular rate of return are not guaranteed by Bridges or any member of the IOOF Group, or any other company, unless specifically stated in a current PDS. Neither Bridges, IOOF nor any member of the IOOF Group in any way stand behind the capital value and/or performance of any investment you may make as a result of the advice you receive.